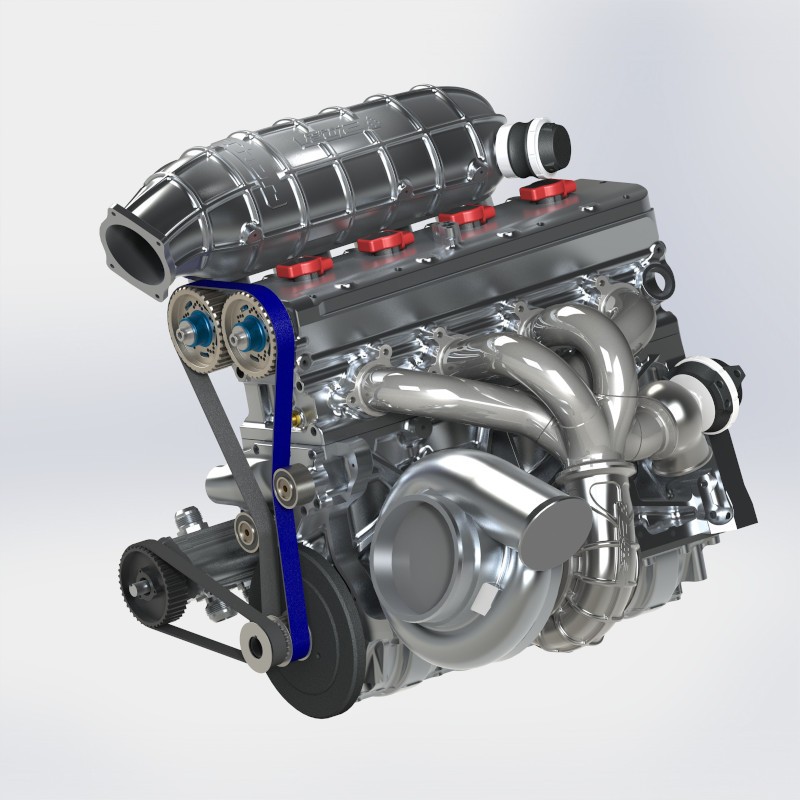  
Thor 4000cc "long block"
1500hp, 4000cc, 8500rpm, single turbo (recommended circuit racing spec)
3000hp, 4000-4400cc, 10500rpm, single turbo (recommended drag racing spec)
'long block' is the basic engine, with oil pump and vibration damper. Does not include pictured manifolds, turbo, sensors, wiring etc.
The worlds first Full Billet circuit racing engine. 3x Back-to-back World Champion engine at the World Time Attack Challenge 2018-2022.
State of the art lightweight design resulting in the best power/mass ratio of any OEM circuit racing engine ever (yes we really mean it, including F1 engines).

Return policy
Thor 'long block' engine package
Thor took home 3x back-to-back world championship titles at WTAC 2018-2022, on its first outings in the legendary RP968 pro class TimeAttack car, and is now available for general order.
Designed for ultra high power-to-weight ratio, for unlimited racing categories, top category TimeAttack and hill climb racing, drag racing etc., this is a state-of-the-art 'full billet' engine 'long block' package using only the best components.
The ElmerRacing Thor engine is designed to get the maximum power possible with the smallest possible engine size and weight. With Thor, you can push large wings and other loads. Displacing a monstrous 3974cc from four cylinders. Thor will reliably produce over 1500hp in circuit racing trim. Estimated capability in drag racing trim is 3000hp. The Thor 'long block' weighs in at a featherweight 106kg!
The 'long block' package comes with drysump oilpump and vibration damper. Does not include any sensors, manifolds, turbos, wiring etc.
Long block package is only sold to qualified teams capable of correct component selection, design and manufacturing. Please be in contact with us early in your decision process!
Engine is fully team serviceable. We of course also provide rebuild services, if the customer wants it.
The engine is fully designed by us in-house at Elmer Racing, where we also manufacture the block, head, crank etc.
Engine package can be customized for special uses.
We will make the engine block fit your gearbox / bell housing directly. No extra mounting spacers needed.
Custom engravings and logos possible.
Engine has no FIA or other racing body homologation. We are however happy to work with customers if specific needs arise.