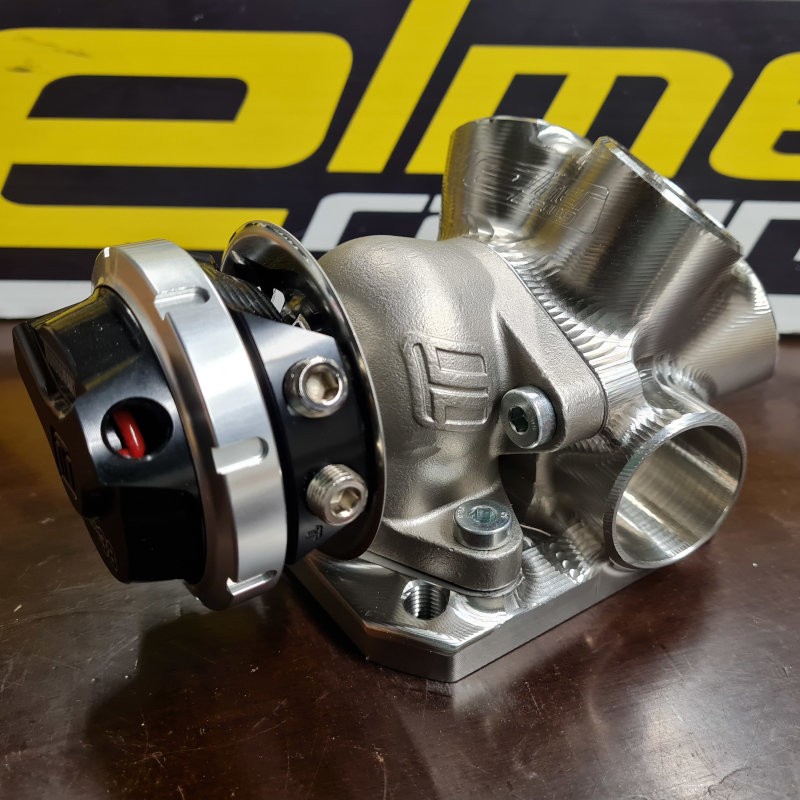  
Spool Valve 4 to T4twin
This durable billet spool valve collector with included turbosmart gate effectively allows running two different A/R ratios on your twin scroll T4 turbine housing turbo!
Based on dyno and track test results, this gives you about 500-1000rpm wider boost range compared to using a traditional single fixed A/R turbine housing.
Tech overview video: ElmerRacing Youtube

Return policy
For T4 twin scroll turbochargers without internal wastegate. Allows good spool up characteristics with half the nominal A/R ratio of the turbine housing with the gate closed, and good turbine efficiency with the full A/R once on boost with the gate open.
Recommended for turbocharger sizes up to approximately 1000hp. (the flow rate for the gate for the second scroll will start limiting flow to the second scroll at very high power ratings)
Operation setup should be done with electronic control or spring rates so that the spool valve gate is at least 50% open before the traditional wastegate starts to open. For easiest setup, we recommend using a Turbosmart sensor housing cap (not included), and datalogging the gate position, or using it for active control feedback.
The ultimate part for making exhaust manifolds for maximum performance. Featuring smooth transitions, and exact dimensions for the best flow possible. This translates into less back pressure, and means more power with the same boost, or the same power with lower boost (and less lag)!
This CNC billet turbo collector features chamfered entry pipes to make welding as simple as possible. This ready-to-weld part cuts hours or days off your exhaust manifold build time, and gives you a much better exhaust manifold!
This is the best CNC merge collector available on the market. CNC machined from a solid billet for maximum durability. We recommend using the included Turbosmart gate watercooling option for increased durability.
Data sheet
Inlet pipe/tube size

42.4/38.4mm

Outlet flange

T4 dual-scroll

Wastegate size

1.25"sch10 (42.2/36.6mm)