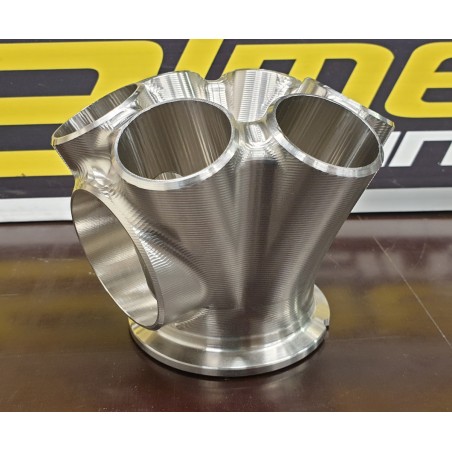  
6 to Precision 7-series/G40/G42 vband, 1.25"sch10
This is the best CNC merge collector available on the market. CNC machined from a solid billet for maximum durability.
Featuring the bigger Precision vband with an OD of 92.3mm. Also compatible with the Garrett G40/42 vband.
Now featuring an improved wastegate design for improved flow and better control!

Return policy
The ultimate part for making exhaust manifolds for maximum performance. Featuring smooth transitions, and exact dimensions for the best flow possible. This translates into less back pressure, and means more power with the same boost, or the same power with lower boost (and less lag)!
This CNC billet turbo collector features chamfered entry pipes to make welding as simple as possible. This ready-to-weld part cuts hours or days off your exhaust manifold build time, and gives you a much better exhaust manifold!
Data sheet
Inlet pipe/tube size

1.25"sch10 (42.2/36.6mm)

Outlet flange

Precision 7-series vband

Wastegate size

2"sch10 (60.3/54.8mm)